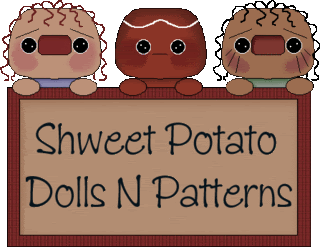 Shweet Potato Dolls and Patterns

Welcome to our little piece of Shweet Potato Heaven. Here you will find all kinds of Shweet Potato Dolls created by Sandi and Inspired by Carm with Shweet Potato Designs. We encourage you to visit our muse at http://www.shweetpotatodesigns.com any time you want to be inspired or feel loved. You can click on her button to the right to fly over to her little cloud.

These dolls are all looking for new homes. They will arrive signed and dated by Momma (Sandi-Shweet Potato Dolls N Patterns).You will find e-Patterns and Paper Patterns here too.
You can always find more of our Dolls and Creations at Shweet Potato Dolls N Patterns, Lemon Poppy Seeds Marketplace, Country Fried Primitives Marketplace and also at our Etsy shop called Shweet Potato Dolls.